Thai Daiho Company Limited was established in 1984 soon after Daiho Corporation (Japanese Organization) completed a Diversion Tunnel project for Chiew Larn Hydroelectric Dam in Surathani Province of EGAT (Electricity Generating Authority of Thailand). The company has steadily grown while engaged primarily in Construction.
At Thai Daiho, we believe that our success can be attributed to our policy, based on the company motto, "Dedication to a job well done through complete quality control". We are sure, nonetheless, that we could not have achieved such expansion without the patronage, guidance, cooperation and support we have received from everyone we have been associated with. For this reason, we sincerely appreciate all of you.
We, Thai Daiho staff, are determined to carry on in the same vein, concentrating on providing the highest quality end products and service through dedicated job performance in our work. At the same time we pledge to direct our efforts towards the betterment to Thailand society.

The first president with Pumipon King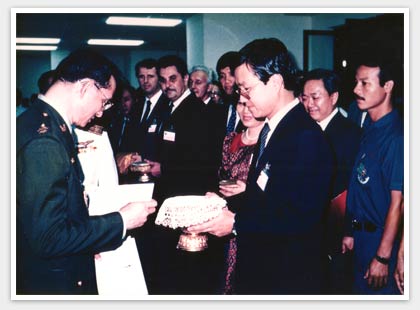 Pumipon King awarded the testimonial.